Search Tool
Kala provides a search tool that quickly and easily allows you to search your database. You can search several Jyotish factors in the Rasi as well as the Navamsa.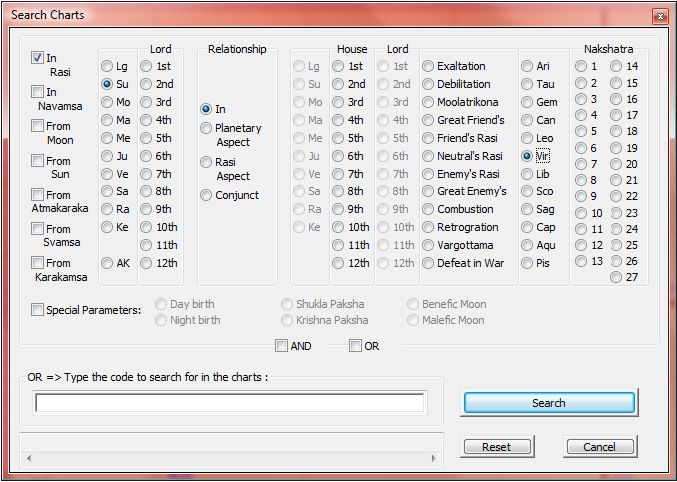 The great part about the Search Tool is that you can search as many and/or parameters as you like. For example, you can search for: Sun in Virgo and Moon in Taurus or Moon in Aries and Jupiter in the 4th or 10th.
Kala's search tool is the only tool available that allows you to search for things that are totally Vedic, like Tithi's, Vara, Hora, Sukla or Krishna Paksha, Day or Night birth, and such things.
| | | | |
| --- | --- | --- | --- |
| | | | |
| Download Kala Vedic Astrology Software | | 244.95 | |
We welcome Phone Orders: 760-420-5648
---
List of Search Parameters
Planets in Rasis

Planets in Navamsas

Planets in Houses

Planets in Houses from the Moon

Planets in Houses from the Sun

Planets in Nakshatras

House Lords in Rasis

House Lords in Navamsas

House Lords in Houses

Rasi Aspects

Planetary Aspects

Conjunctions

Dignities, Exaltation, Debilitation, etc.

Retrogression

Combustion

Dignity in Navamsa

Atmakaraka in Rasi

Atmakraka in Navamsa

Planets in Houses from Atmakaraka

Planets Rasi Aspecting Houses from Atmakaraka, Svamsa or Karakamsa

Good Dignities in the Dasavargas such as Simhasanamsa, Gopuramsa, etc.

Day and Night Birth

Shukla and Krishna Paksha

Ayana

Ritu

Lunar Month, Masa

Vara

Tithi

Hora

Muhurtas

Sankranti

Paksha Chidra Tithis

Nakshatra Vishanadi

Tithi Vishanadi

Vyatipata, Vaidhriti

Gandanta

Eclipse